About 6-Years-Grown Korean Red Ginseng
Korean ginseng is a plant, the root of which has been taken as a health food for over 2,000 years around the world. Long before Korean ginseng was well-known to the Western general public, people from aristocratic and scientific classes knew about, wrote about, and showed their love for ginseng, regarding it as a natural medicine and calling it the "treasure from the Orient."

Some notable figures, who have openly endorsed the use of Korean ginseng to support natural health, include King Louis XIV (the "Sun King") and passionate philosopher, Jean-Jacques Rousseau.
Both enjoyed and appreciated the health effects of ginseng. Pope Paul II loved ginseng so much that he made it popular around the Vatican. Russian novelist, Maxim Gorky, used ginseng while recovering from a smoking-related disease and French president Mitterrand claimed that ginseng helped extend his life while living with a terminal cancer. Even the British rock band, the Scorpions, came to Korea and purchased ginseng to support their active lifestyle, while one of the world's top models, Naomi Campbell, has shared that one of her secret's for body care is using Korean ginseng extract.
The World's Best Ginseng Must Be Cultivated in Korea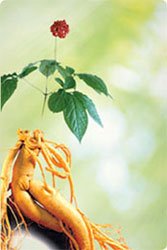 As a delicate root, the growing environment is important for ginseng to produce healthy components, called ginseng saponins.

Since Korea is the naturally evolved growing environment of ginseng, Korea's geographical latitude, 4 distinct seasons, and the very specific soil conditions on the Pacific peninsula of Korea allow Korean ginseng to produce more than twice the variety of these healthy components.

Although there are other species of ginseng, such as American ginseng, Japanese ginseng, or Siberian ginseng, and while cousins of Korean ginseng exist, including Chinese and Asian Panax ginseng, these varieties naturally produce either less than half the variety of healthy saponins as Korean ginseng (by species), or only half the total quantity of healthy saponins (by growing period).

Korean ginseng is grown in the ideal climate for ginseng cultivation, the peninsula of Korea, under strict quality controls. For these reasons, it is praised as the highest quality ginseng in the world, in terms of efficacy and, both, quantity and variety of active components.
The Global Popularity of Korean Ginseng
Korean ginseng is so popular, because it offers a unique set of natural health benefits, which other herbs cannot match. Known as the "King of Herbs" in the natural health foods community, Korean ginseng helps to:

Furthermore, long considered an Aphrodisiac, Korean ginseng specifically helps bodily stamina and blood flow, and is often found in natural medicines for men and women, usually combined with other helpful ingredients.

Traditionally, high-quality red ginseng had been presented to kings and traded as a precious item embodying a wish for long life and good health. As Korea's most symbolic health food, Korean red ginseng is given to state guests and VIPs as a national gift. Korean red ginseng has gained recognition through global media such as Le Monde, a major French newspaper, for its good health effects. Le Monde reported about how Francois Mitterrand took Korean Ginseng regularly. When Elizabeth II paid a state visit to South Korea, Korean red Ginseng was presented to her as a special gift. And at the Seoul G20 Summit, in 2010, Korean red ginseng was chosen as a sponsored gift for global leaders, once again illustrating the appeal of Korean red ginseng's efficacy to the world.
Ginseng Varieties Classified by Country of Cultivation
Korean red ginseng is known as the 'King of Herbs' and can be sharply contrasted with other inferior ginseng species. While Korean ginseng boasts more than 30 varieties of healthy plant saponins (and ginsenosides found only in Korean ginseng), the roots nearest relatives offer less than half the natural variety. The richness and wealth of natural components in this superior root are maximized when grown for six years. As such all of KGC's roots are guaranteed to have been grown for no less than 6 years, an incredible investment in care and cultivation for the highest quality ginseng products in the world.

Reasons for Choosing CKJ's 6-Years-Grown Korean Red Ginseng
There are very few certified growers of genuine 6-years-grown Korean red ginseng. Most ginseng is mass-manufactured on farms outside of ideal growing conditions for much shorter periods of times, using lesser species of ginseng processed with less care. Korea Ginseng Corporation's CKJ brand of 6-years-grown Korean red ginseng is guaranteed to be grown for 6 years under strict quality control. KGC has active Good-Manufacturing Practices certificates designated by 4 different countries, including South Korea, Saudi Arabia, Japan and Australia. We fully meet FDA requirements for the US market. Rather than using alcohol or other method extractions, KGC's Korean red ginseng is water-extracted to meet the FDA's standard of a pure original substance. Purity and quality assurance is key to our CKJ brand.
This dedication to high-standards and a quality product has allowed the CKJ brand to prosper for more than 113 years. KGC's CKJ brand of 6-years-grown Korean red ginseng astoundingly represents more than 70% of the Korean ginseng market. We could not reach this level of success without the trust of our customers and continuous innovation. KGC invests $20M annually in R&D to constantly innovate in best practices and this dedication has allowed Korea Ginseng Corp. to receive sanction from the Korean-FDA to allow CKJ branded ginseng to claim multiple health benefits, backed by hard research, a remarkable achievement in the dietary supplement industry.

These claims are specific to CKJ-branded products and cannot be made by other Korean ginseng competitors. Recently entering the American & European markets, KGC looks forward to responding to the needs of the Western markets and we hope you try our latest products.

Sought by sportsmen and herbal enthusiasts alike, 6-years grown Korean red ginseng stands apart from other species and is renown for its great efficiency and the level of healthy components found in each 6-years grown root. KGC guarantees that the ginseng in each of our products is grown for no less than 6 years. While competitors turn over their soil seasonally, using 1-4 year old roots to use ginseng as a catch-word ingredient, KGC invests in a mature, quality end-product, which allows our customers to feel the difference.